My Facebook Advertising experience
My Facebook Advertising experience
So, Facebook is this monster that is so big no one can fuck with. They have 0 competitors and a "privacy policy" that no one can understand, is subject to interpretation, and can change any time. In other words, you do as they wish and there is no argue about it.
ecently someone contacted us at TROM and proposed to give 500 Euro to promote tromsite.com trailer. Fantastic! We never invested any money in advertising for the project because for one we have no money for that, and second the last think that I would want to do with limited funds is to give the money to FB or Google. But, if we would have lots of funds we would do this more often because we want to reach new minds. Ok, so this great guy called Mark gave us 500 Euro to advertise tromsite trailer. This is the trailer:
On FB the trailer had a top and bottom text to attract people's attention (FB videos are like that) + caption (since most FB videos are autoplay on mute). I created an ad for it, targeting people like volunteers or those interested in TVP, TZM, or environmental issues and the like. FB said we would reach between 5.800 – 27.000 people daily and it will run the ad for 14 days: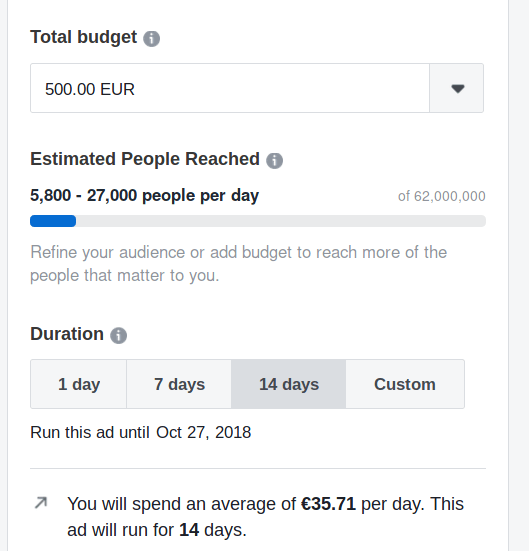 I had to wait 24h for the ad to be approved by FB, which turned into 2-3 days wait. Finally they approved it. We started to get a lot of engagement and comments. So much so that I will transform all of these comments into a comic book because the discussions were very important for TROM. You can see the entire thing here.
These are the results for the first 12 days: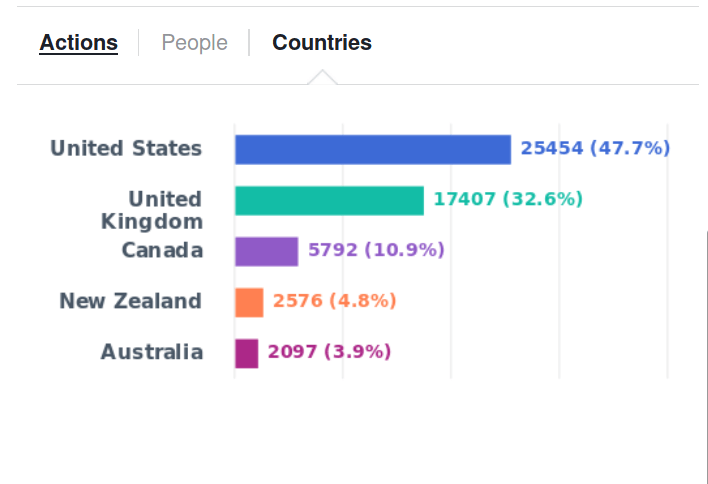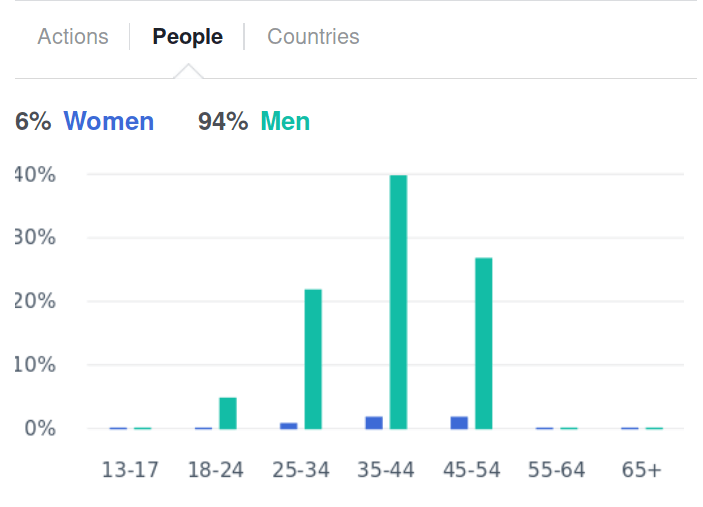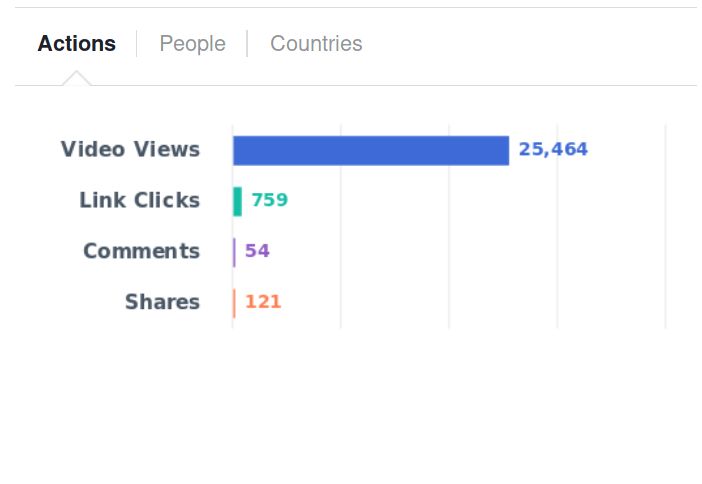 So, 53.357/12=4.446 people reached per day. That's bellow the minimum that FB told us we will reach. Really bad and I consider FB's approach to be a bit scammy. They promised way more reach. As you can see we've already spent a total of around 410 Euro so we had 90 Euro left. Let's calculate how many people the entire ad would have reached: so, for 409,54 Euro we reached 53.357 people; thus, for 500 Euro we would have reached 500*53.357/409,54= ~65.142, or 4.653 people per day. FB said that we should reach a minimum of 81.200 (5.800*14) and a maximum of 378.000 (27.000*14). What about that FB? Should I consider this a scam?
Anyways, 2 days before the ad had to end I get this message from FB: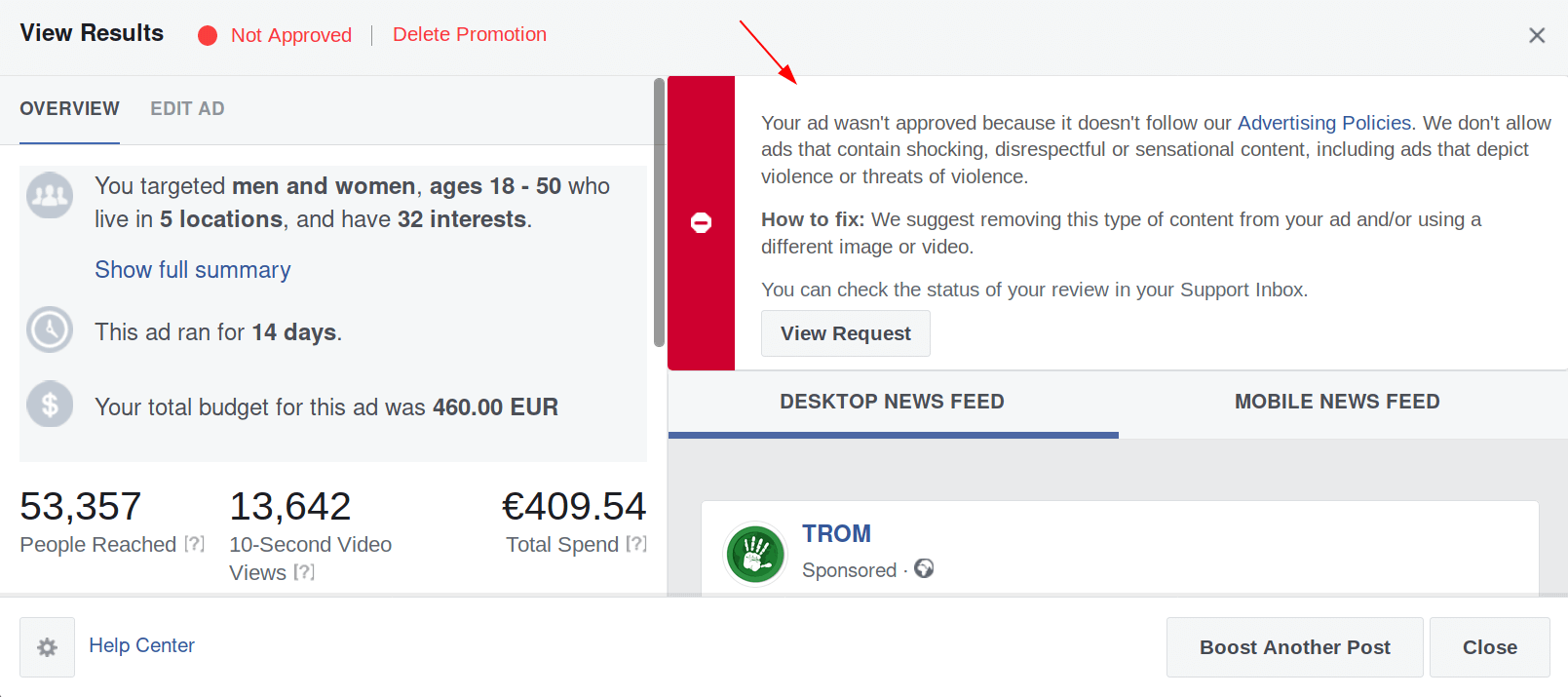 Heh….violence? Shocking? I had to "appeal" it and wait another 24h for FB to reply – in FB's world that was, again, 2 days or so. This is my appeal (I have to mention that I am tired of fighting these retarded companies – been doing this for a long time with FB banning me several times, Youtube the same):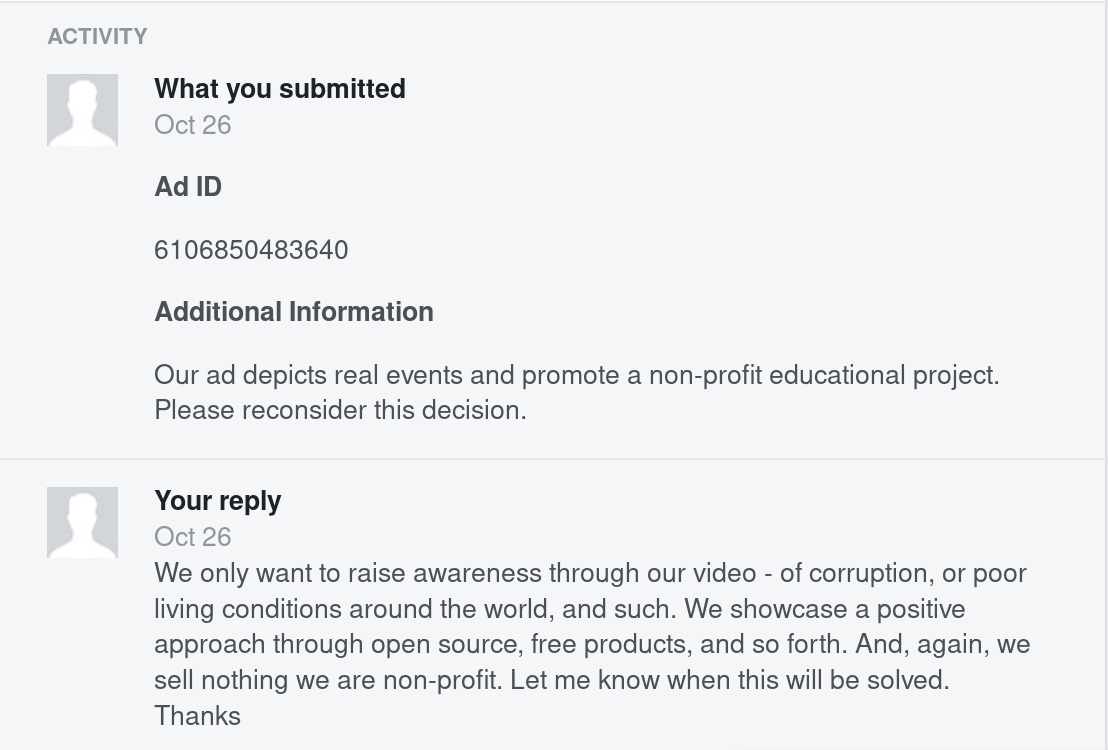 They replied finally: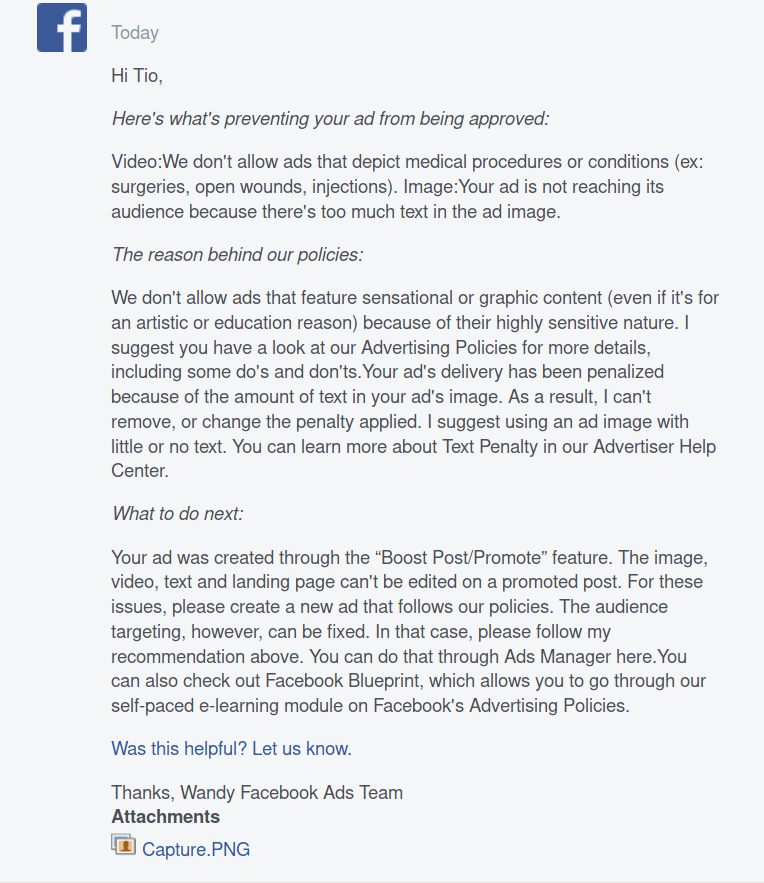 This is their attachment: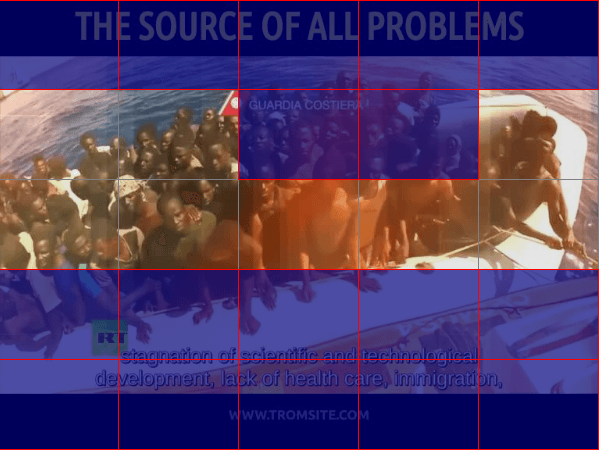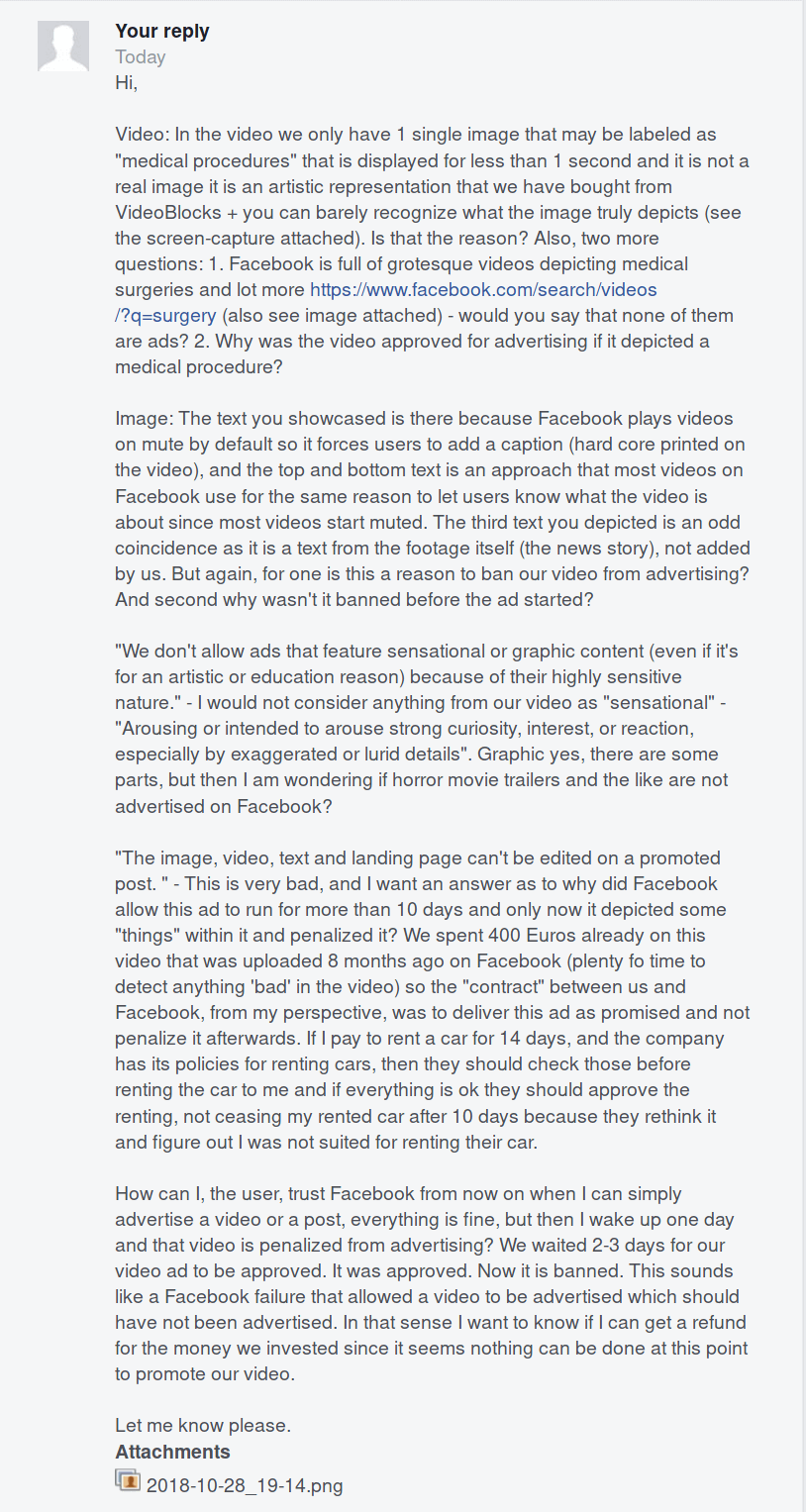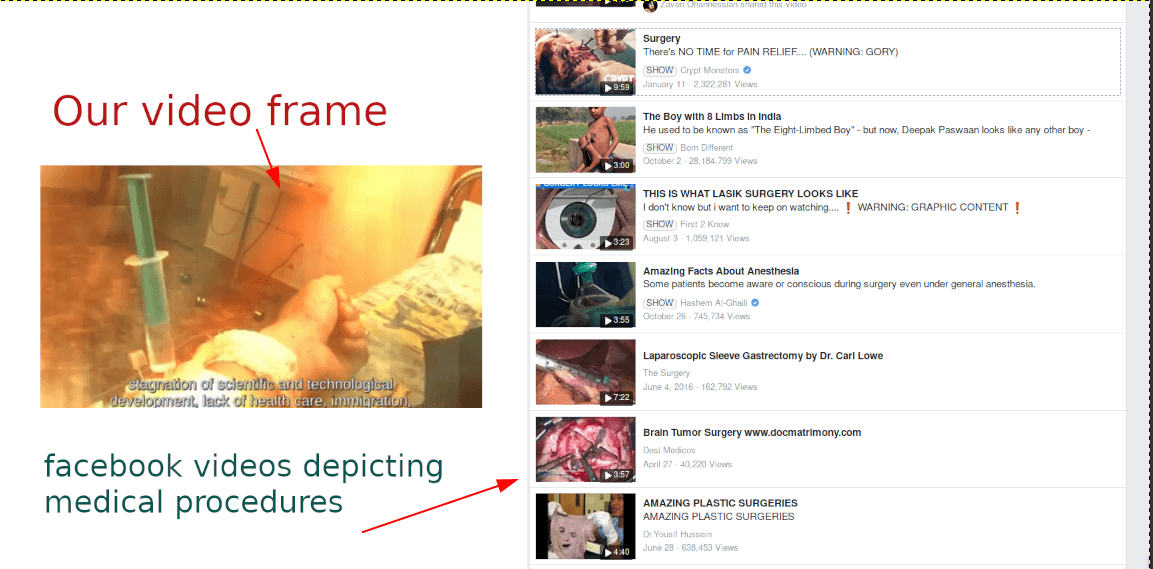 And then they became robotic: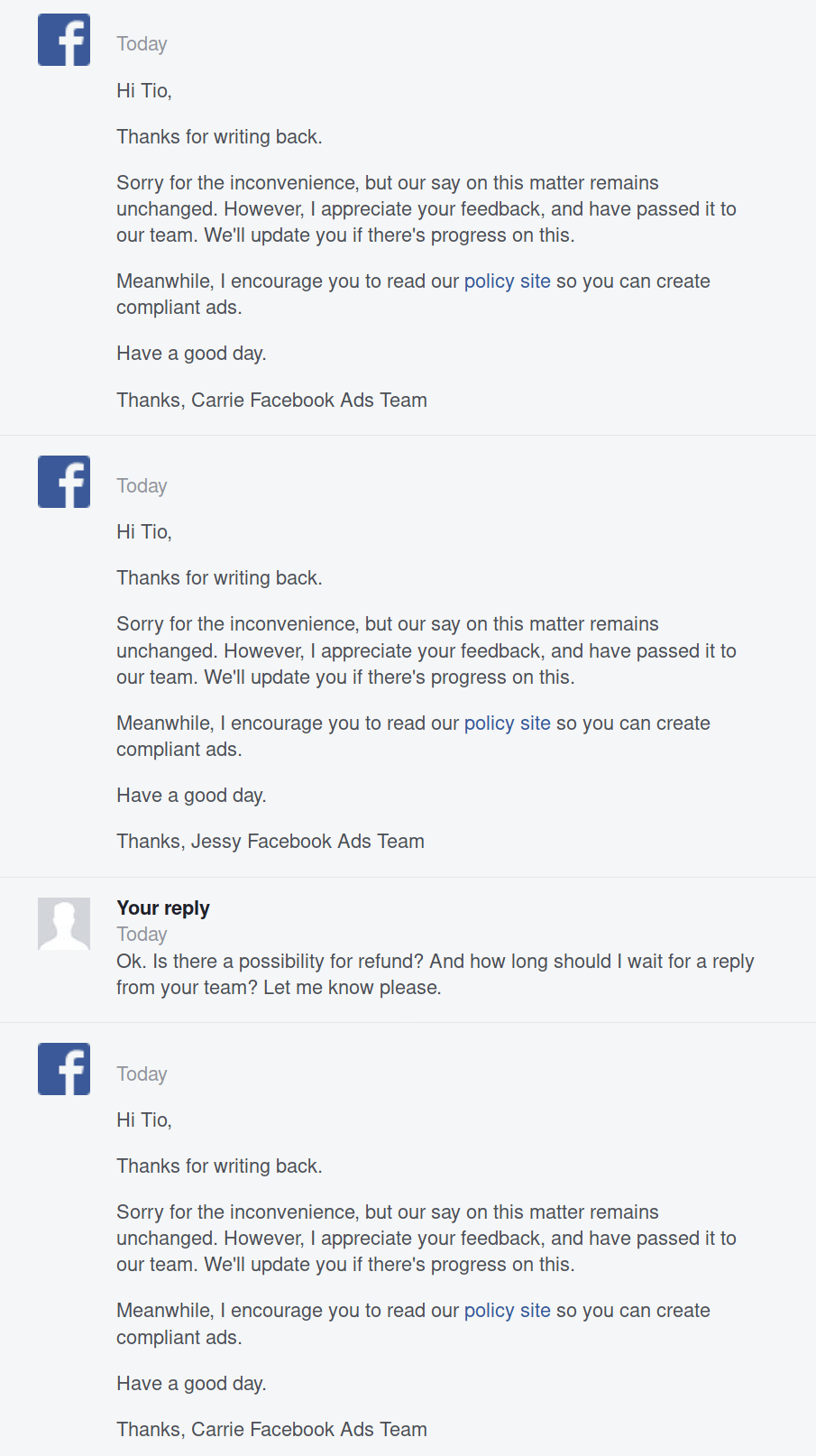 I doubt there is anything I can do at this stage. Will try to see if I can get a refund but I don't think this will happen. If not, then we'll use the rest of 90 Euro to advertise the trailer on Youtube maybe. The FB Charlatan is such a hypocrite. They only care about their profits, of course.
This is the reason why I created a live update on TROMsite.com (click top logo on any page – except homepage) so that people can get the updates from there and not from FB or other third parties that are censoring stuff left or right. Think about it, if we cannot advertise our tromsite.com trailer, that is all about education and a positive look at the future, plus we make 0 profits, then how can we achieve much with this project? The only good part is that we've reached many new minds and had great conversations there. Thank you Mark so so much! If we will do this in the future we must be aware of the Charlatan that is FB and do this in a smarter way if possible, to avoid the shit-show that FB can draw you into.
Will keep everyone updated on TROMsite.com live.
EDIT: In one image it says: "this ad ran for 14 days and you spent 460 Euro on the ad." This is bullshit on 2 accounts. One, the ad ran for about 12 (maybe 11) and the other days it was banned/suspended so I see they calculated those days as "active". Second, when I started the campaign I've added a budget of 500 Euro, then FB started the campaign by charging me 40 Euro, and then started to calculate those 500 Euro for the ad…they advertised for the 40 Euro they took, but if I were to have left it as it was they would have charged me 540 Euro so I had to change the budget to 460 Euro. Very annoying!