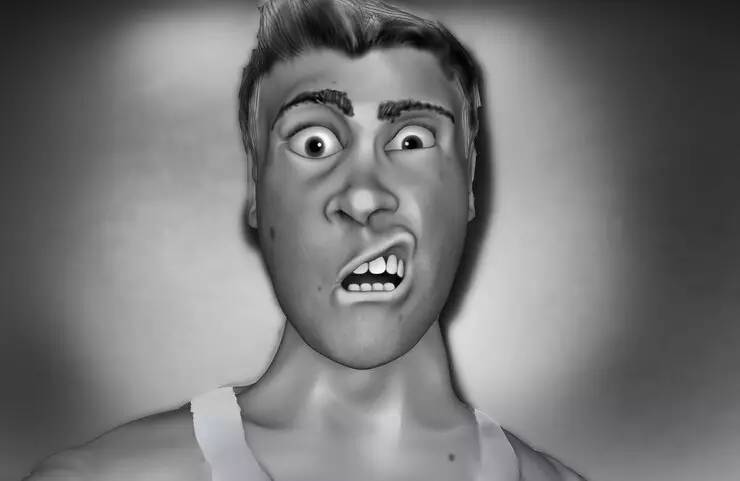 yes.no.yes.no.yes.no. ? !
yes.no.yes.no.yes.no. ? !
For the past several months I have fluctuated between excitement to do this or that, and total lack of any excitement. Happy and motivated, to then being depressed and demotivated. But I like to try and understand myself, so I always use me as the rat I am experimenting on.
I've been through such moments all of my life, and I don't think it is unusual considering the work I'm doing: researching the ugly face of this world, and then (at times) finding the nice face of the world here and there. So my brain is like "Jeez the world sucks balls. Really bad. And is nothing we can do about it. We are doomed". Then at times is like "Oh look, nice people and projects. How nice. Flowers and bunnies and all of that.". And these get mixed in my brain at times. On top of that I always had to worry about money…will I have enough for the next months!?
But lately I am a lot more "yes.no.yes.no.yes.no". Like a bunch of waves in a storm. Why?
At times I get excited about TROM II and discuss with the people around me about it, and ideas of how to make it more interesting and such, to then, in a few days time, to be like "bleah…I don't like any of these ideas…I don't want to make TROM II". And it goes on and on for months, not making much progress with it. Again, why-why? I think I know why.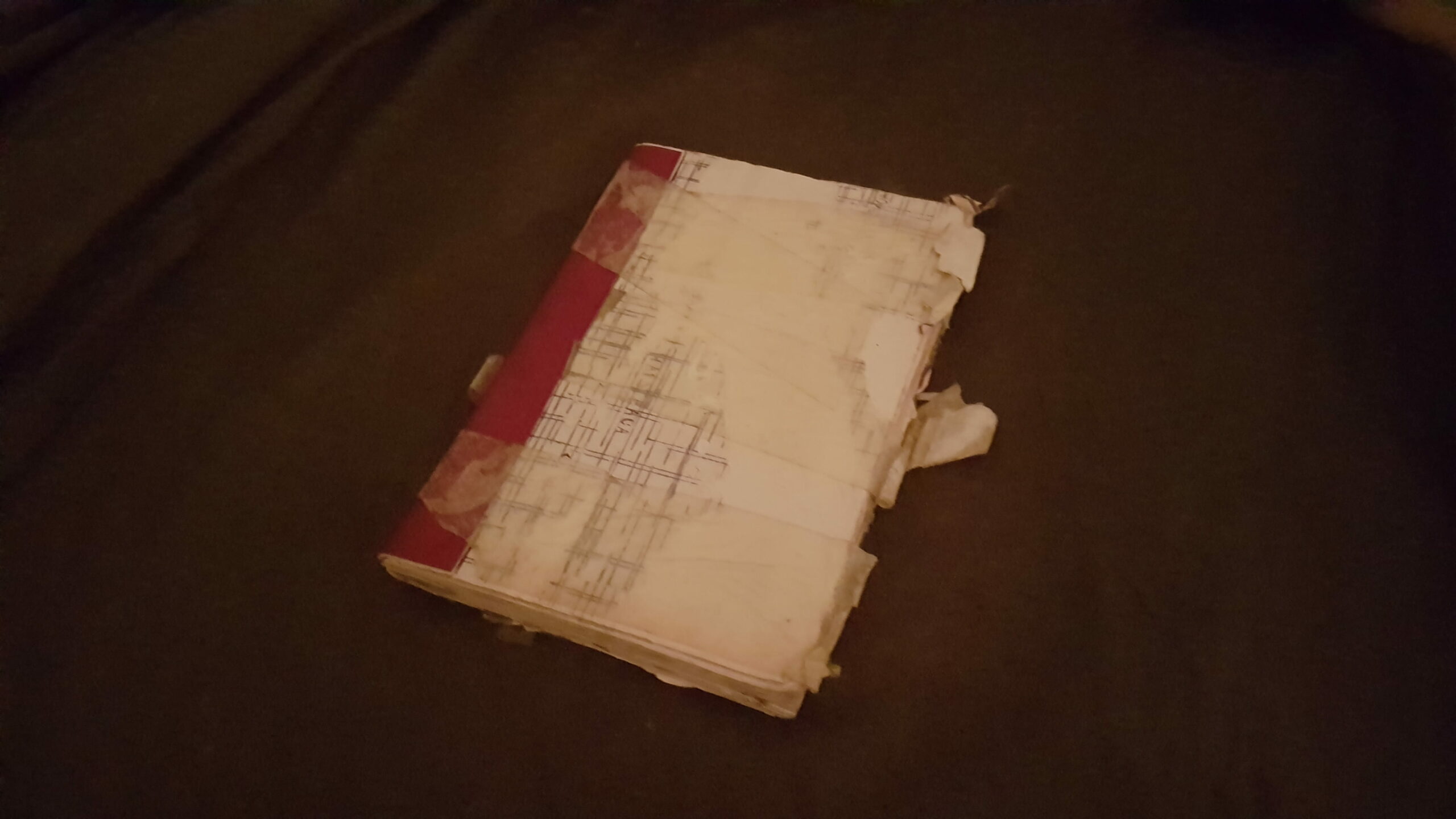 From mind to notebook
This trade-based, zombie-full, and retarded-graded society always stressed me out. But once I started to have a notebook (journal) - pen and paper - I got more relaxed. I could express myself. Write about the idiocracy. Felt good.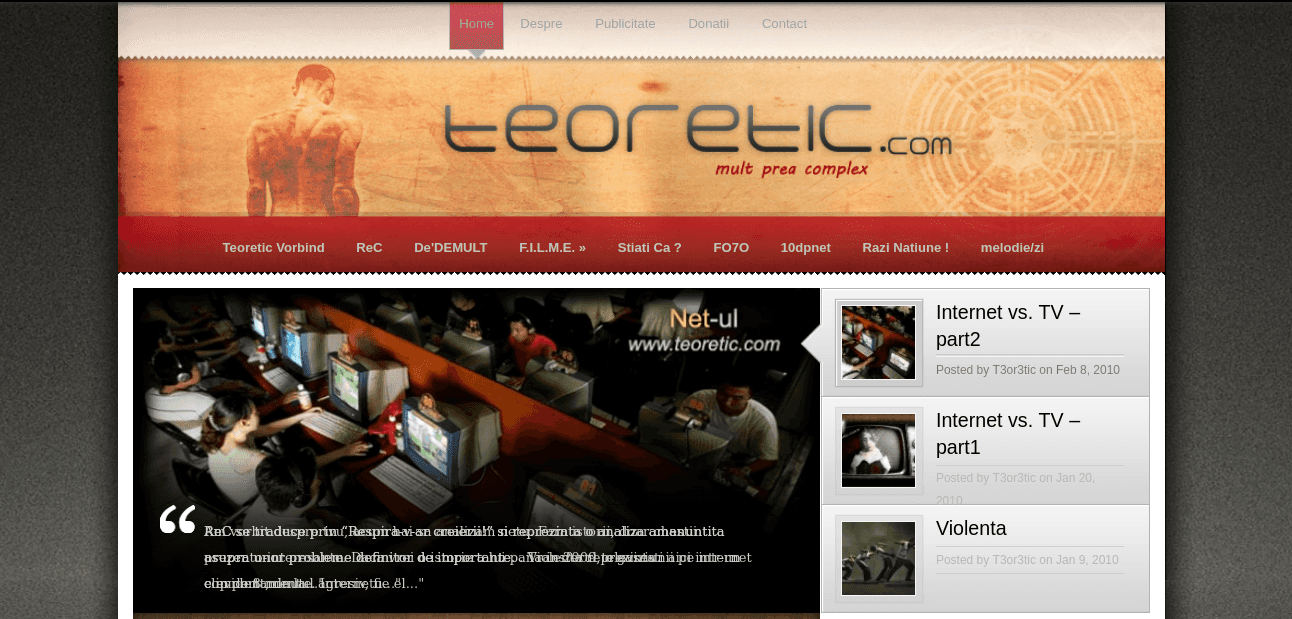 From notebook to blog
Then I decided to write digitally.
Back in 2005 or so, when I was starting my romanian blog, it felt like I came across a big pile of fresh air. It was me, my computer, usually late at night, writing about the stuff I wanted to write. I felt like I was alone on a planet, beaming my thoughts to other planets. Not many listeners, not many reactions. But I liked that. Because all I wanted was to say some stuff. That's all. After a few years it became a bit busier and I didn't like it that much. People voicing their opinions to your opinion, in your own home (your website) can become annoying. But hey, there is a lot to learn at times, from this minds from other planets.
My thoughts were no only mine, hidden in an old notebook in my room, they were out there for all to see. I retired my notebook.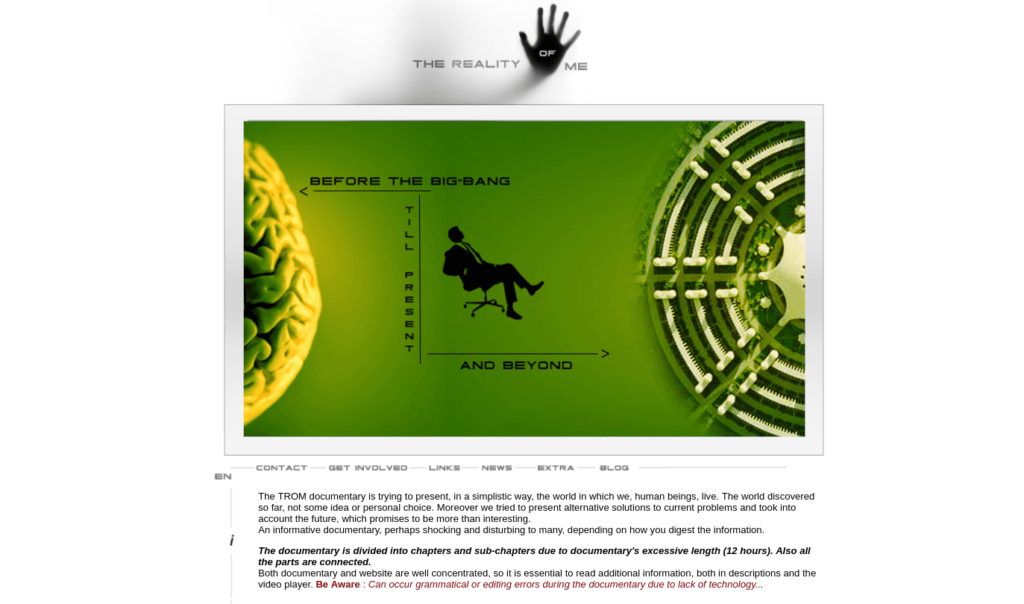 From blog to documentary
After a few years I felt like I can express my thoughts better in english and in a video format. I was watching too much EN stuff, but I could not write very well, so it help that I could cut segments from videos and make some content that would mirror my thoughts. Like a DJ, I was remixing stuff. So I made TROM Documentary with videos from other documentaries, lectures or other videos, plus a badly written EN script (from a grammar perspective). I remade TROM with a proofread script a year later. I was happy, but not in the mood anymore to write on my romanian blog. I was leaving that behind. Didn't consider it relevant anymore, same way I stopped writing in my notebook once I started my blog.
I tried however to still write in romanian on that blog, but I realized it is not happening. Almost like being 15 trying to jerk off on 70s playboy magazines. I needed new adventures :)). It's not working!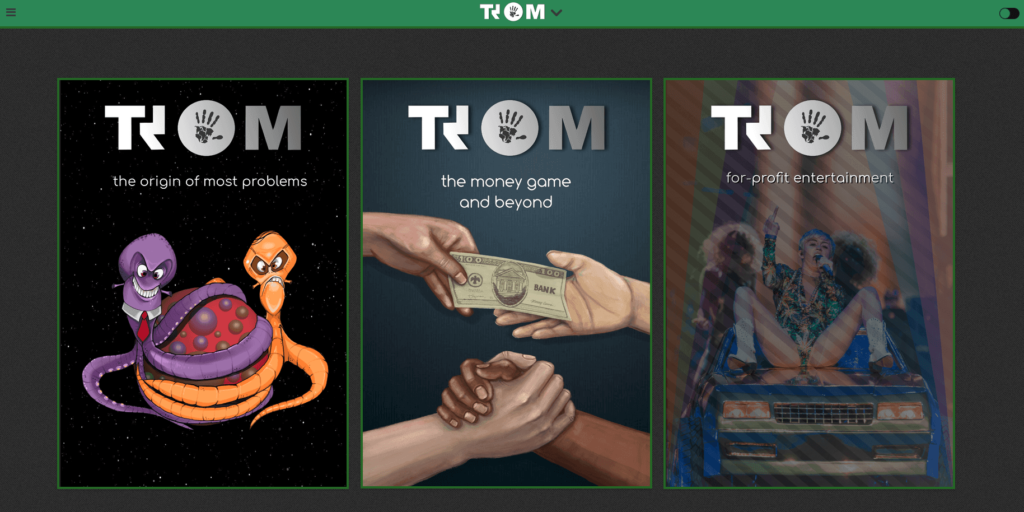 From documentary to books
Making a 14h documentary was a great way of expressing my thoughts. But now I had even more thoughts. I wanted to do proper research, to source what I was writing about, to move from writing articles to writing books. To do "serious" work. And so I created a lot of books, very detailed, very important. A fuck-ton of work. Writing them, designing them. I got better at writing in EN. But not that great at speaking in EN since I could not practice with anyone. I was behind the screen, typing words. That's me.
In this time I tried to go back on the Memory Lane and make some videos based on the books I wrote. That documentary-lane...I tried a lot. A lot. We recorded, and recorded, and recorded. And we released 2-3 videos, and that's it. I felt again like that 15-year-old jerky. Not working anymore. Doesn't excite me anymore to make videos...I made a huge one, and I put a lot of work into it....now I was in the book-mood.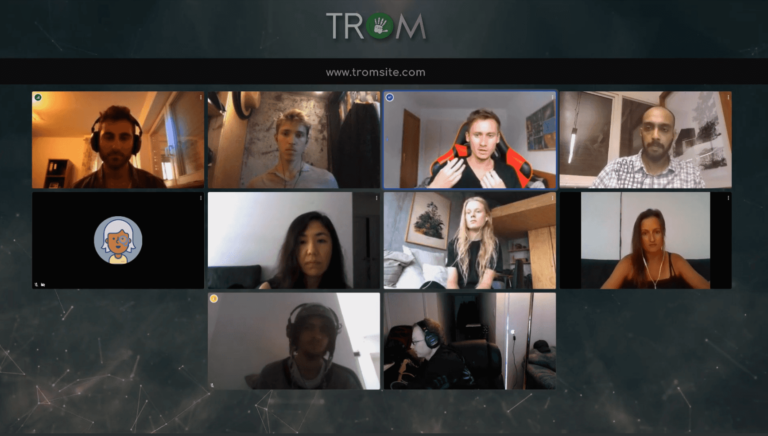 From books to in-action
Since 2005 I've been broadcasting my thoughts indirectly. But in 2018'sh I started to meet people who were very aware of my work. Meet them in person. We also started TROM-Cast. Us. Live. Speaking directly to each other, and to the other planets. My spoken EN got a lot better.
Until then I felt like a runner who trains for a competition. Year by year, accumulating knowledge and skills. 2019 was the year I could run. Be out there. Touch the other planets. Broadcast my thoughts directly.
Another important thing happened: my realization of "trade" and how it is a thing that influences everything, and how focusing on that is the best we can do. Understand. Destroy. Also, trade-free. Create trade-free goods/services to both help people in an honest manner, and to also inform people about this trade-monster. And so I created tools like TROMjaro, the Trade Free Directory and the website, and I re-labeled and re-purposed all of the other websites to be trade free: videoneat, my website, other people's websites...our tools were directed towards that vision. I wanted to showcase how we can do some work in this saner direction. No more "just talking", now it was doing. More directly. Yeah, small scale. but still...a lot considering my "powers".
For the past 2 years I loved working on TROMjaro and make it better and better and make a point with it within the open source community. And I got my voice heard a couple of times. I curate hundreds of trade-free apps for it, I added stuff to the trade-free directory, I removed the trackers from most of our websites. I started to get away from online trades as much as possible, as a matter of principle and also because it feels damn good and could inform people about why trade sucks, and trade-free goods/services are a lot better. A LOT.
No more books for me, it was all about doing something. Talking to others, challenging them and their values, be out there into the wild. That started to excite me.
But then I had this idea, partially influenced by the people around me, of making another TROM documentary and explain this new thing I discovered with "trade". I agreed we need such a material on our website and out there on the webs. TROM documentary is still relevant, but talking about abundance, and scarcity, and rbe, and tvp and the like, doesn't make sense for me anymore. I evolved past that. I changed my mind about many of those notions. We made a TROM-Cast all about that and it is part of the TROM documentary now, as a "review" of it, at the end of the documentary. But it is not enough. I would like to replace that documentary with a new (updated) one. Although that's the rationale, and although sometimes I feel super excited about it, it does feel a bit forced…as if I force myself to go back to making videos instead of focusing on the "in action" part of my evolving life. I feel more motivated to invite experts on TROM-Cast and talk about the human behavior or other notions, to invite people from the Open Source communities, volunteers, those who want to change the society, and talk to them. Learn from them. Challenge them.
I think I am ready-enough to go and talk/debate with others about these ideas. I want to go fight now :D. Doing things like books or documentaries is an indirect fight for me. But I still would love to write more books. I want to definitely write a few more. One about science so that I learn what it is in detail, one about human behavior in great detail, one about "shapes" (you'll see it is a fascinating topic and it affects everything: medicine, tech, behavior, etc.); and a few more. I'd like to write them on my own phase and in the meantime do more work on TROMjaro, Trade-Free Directory and the other tools we have, and definitely TROM-Cast.
I fell like that's my new "era", the in-action era. And I am kinda forcing myself to go back again to the "documentary" era. But I'll give it a shot. We are trying to do a different kind of TROM documentary, more "in-action" with filming me, Sasha and Dima. We already started that so let's see where it goes.
Thing is, my idea was to raise around 13k Euros for a year of work (1k a month to survive), and all of the 2021 to work on TROM II. I could have done that if I had the money. But since I only have raised around 2k then I had to rethink it completely. It will be a shorter one, but maybe more interesting and personal. More "catchy".
So yah…let's see how it goes…
The good part is to see myself evolving and trying new approaches to understand the world and explain it to others.
When I know what I want to do, it is a lot less of "yes.no.yes.no.yes.no.". But when I try to force myself to do things I may not enjoy doing at that period of time, then I fluctuate a lot. It happened to me when I tried to write again on my romanian blog, when I tried to make videos out of my books, when I have to do this documentary it seems.
In any regard, I also have to enjoy life and the things I am creating, else it is pointless. I'd rather have a normal job and forget about this, if I end up in a pile of stress and regard TROM II or other projects as "work that I HAVE TO DO".
I am so so happy with the stuff I've created so far and I will create more of it, and evolve to new kinds of projects and approaches. The flame of "doing something" is still burning inside my essence. That's for sure!