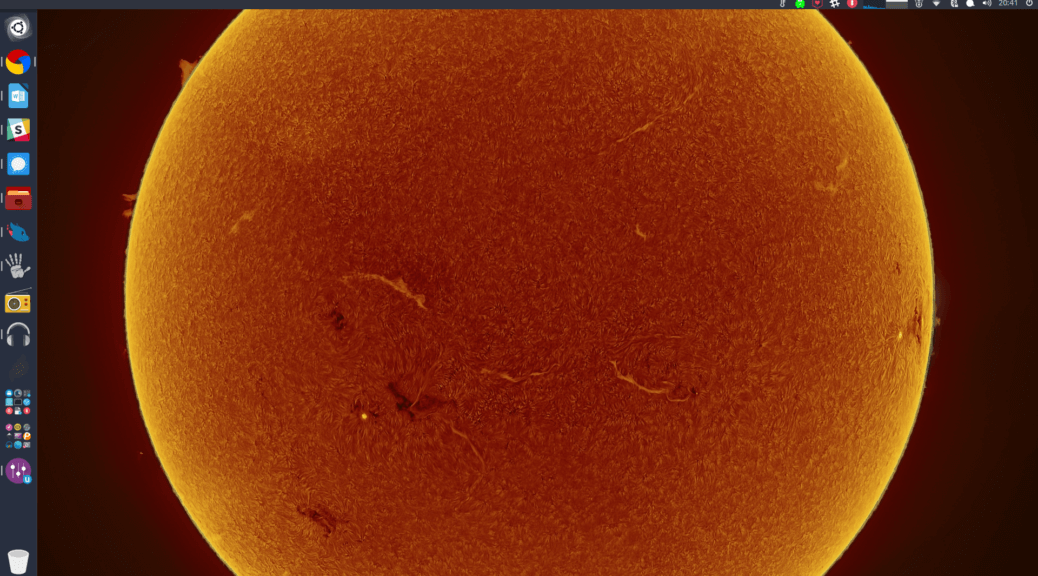 The free and open source software that I use on my laptop
The free and open source software that I use on my laptop
Free and Open Source Software = FOSS
All of my life I used Windows as an Operating System together with proprietary software that I often pirated because it was too expensive. That changed some 5-6 years ago when I discovered Linux. Since then I've mainly used free and open source software and I absolutely love it. It is stable, awesome, not bloated with ads or unnecessary features, and since it is made for free it is made by people who are passionate about what they do so that results in an overall better user interface and more useful software.
Today I use Ubuntu 16.04 with Unity Interface. I love it. A few things that I absolutely love are:
Workspaces
On Ubuntu you can enable multiple workspaces natively. You can move stuff from one workspace to another with ease and switch between them with all kinds of gestures: buttons, hotcorners on the screen, keys, mouse position. I usually use them when I work on multiple things at once and I want to separate my workspaces.
HUD
Imagine you want to edit a photo in a program and you want to apply a certain blur filter. Where do you find it? Search through all of the menus? What if you could press a key and write that filter's name then pres enter and that's it!? Well, that's HUD and after you use it you can't imagine life without it. It is such a useful feature and it works with all (at least most) Ubuntu apps.
Customize
You can customize Linux distributions any way you like. From icons and themes, to shadows and text, everything. You can make them look like Mac OS or any Windows, or anything original. There are many custom made themes and icons and all kinds of editing tools. Here's a website where you can find themes, icons, and more.
There are many other reasons to love Linux, like the updates and upgrades (that I used to hate on Windows), or the built-in features that allow for easy management of programs (they have an app store). No point to list here all the goodies, but I am going to list my most used FOSS apps. So, there you go, my go-to free and open source software:
Chromium
You get all of the goodies that Google Chrome has, except Chromium is open source and does not spy on you. Basically Chromium is the good and honest Chrome. All of Chrome extensions and everything else work on Chromium as well because Google Chrome is built on the back of Chromium. In my experience Chromium is the best browser out there, even better than Firefox.
KeeWeb
The best password manager. This is a fork of KeePass (the well known one) with a better interface. If you want to know how to move from LastPass to this and how to integrate with the browser, which is super simple, read this blog post I made.
Thunderbird
The great and known email client for Linux (and not only) :). To learn how to set it up and make it look great and be encrypted, read my blog post about it.
Riot
This is an amazing collaborative tool that we use for TROM. We were using Slack (the well known tool for team management), but Riot is open source, free, and not limited like Slack free version is. You can chat with people, create channels, call, video call, send files, pieces of code, and so much more. And it is all encrypted. Plus it's available on the web directly, or installed as an app on any operating system including mobile.
Kdenlive
The best video editing software for Linux. Hands down. I've been using it for the past years and I've made all of the TROM recent videos with it. Lots of features, pretty stable, and it is good enough for advance video editing too.
Libre Office
I don't use Office stuff much, but it is for sure a super useful suite of tools. I mainly use the Office writer. It is the perfect replacement for the 'well known' Microsoft Office.
GIMP
The alternative to Photoshop, this app offers a lot. It still is a bit less intuitive and feature packed than Photoshop, but it does the job. If you want to edit photos this is the best FOSS software out there.
SMPlayer
I've tried many video players over the years, including the famous VLC, but SMPlayer is pure awesomeness. Has tons of features and it does the job. Plays any video, remembers where you left of, you can even add streaming from external sources, and so much more. Using it for the pas years and it never failed on me.
VidCutter
The fastest way to cut parts of a video. Just select the part/parts you want to cut, and save. It takes seconds to save the parts, unlike other software that may take minutes or even hours. Super fast and snappy.
Signal Messenger
This is the desktop version of Signal Messenger and you need the app installed on your phone for it to work. Signal Messenger is perhaps the most secure, simple, efficient, and stable messenger (text, voice, video).
Shutter
I tried many screenshot apps but this one is just cool. You can select certain windows to screen capture, or select areas of the screen. You can edit the screenshots inside the app (add arrows, blur parts, etc.). One top fo that you can even upload the screenshot to online websites like Imgur that the app offers for quick sharing without any account needed.
Jitsi Meet
Forget about Skype and other such video call apps. This app is far better and offers all kinds of features. It is as simple as going to their website, adding a name for the url (whateveryouwant), and share the link with your friends. That's all. You can put a password on the URL to make it private, add as many people as you want, and so on. You can also install it on your system. I've been using Skype for years, but this app is far superior in every regards. So I gave up on Skype.
Aptik Migration Utility
This is the ultimate Ubuntu backup and restore software. You can basically back up and restore any part of your system. I have yet to test this for a full Ubuntu recovery, but seems to be working fine so far.
Stacer
This amazing app shows you the basic info about your system, allows you to uninstall apps (which can be tricky in Ubuntu), clean up system files, add startup apps to your system, close running software or system services, and see what apps are open and how much RAM and CPU they take up. Super useful app!
Transmission
The simplest, most stable, and awesome p2p (torrent) client. Download torrent files. That's all. It has the most necessary options, but no more than that. You can even create torrent files with this app.
Unity Tweak Tool
In case you want to change the appearance of Unity (Ubuntu) this tool gives you all you need: change icons, themes, fonts, some functionalities, etc.
Curlew
A simple video converter for multiple files. It doesn't work perfectly all the time but usually it does the job.
HandBrake
A more advanced video converter even if it only supports 2 video formats as output (mkv and mp4). You can add subtitles to files, change aspect ration, and more.
Inkscape
Anything vector related I edit or create with this app. Pretty feature rich. It is basically a vector image editor app.
Kazam
Records your desktop in crystal clear format. Super light and useful. It can also record audio and your mouse cursor.
Peek
A super neat small app that lets you record parts of your screen and save as GIF or MP4. Super useful when you want to make a small GIF of your screen that you want to show to someone, like for example bug reporting, or quick tutorials. All the gifs you see in this slide are created with it.
Filezilla
SFTP, FTP (and more) access to your server. Been using this for so many years without a single issue. Upload, download, edit files on your server.
Audacity
A professional tool to edit audio files. What I use it the most is noise removal from audio recordings. Of course, you can use it for a lot more than that.
ClipGrab
Download videos from Youtube, Vimeo, Facebook and many other sources to your computer. You can also choose the output (quality or format). Basically you can even choose to download a video as audio file.
Sound Converter
Very simple and efficient sound converter supporting perhaps all types of files and multiple conversions at once.
WebTorrent
Torrent (p2p) client that allows you to also watch/listen the medial files before they are downloaded. This is super awesome. The app is super simple so you won't get the many features that Transmission offers, yet the streaming feature is very useful.
ANoise
A little useful app for some, ANoise plays background noises: forest noise, traffic, rain, and so forth. I use this when I sleep to desensitize myself from the outside noises. And it really works. 😀
Audio Recorder
A simple audio recorder. It does the job perfectly.
Folder Launcher
Simple little app that allows you to group apps into boxes for quick launch.
Unetbootin
If you ever want to create a bootable flash drive and quickly choose from many flavors of Linux distributions, then this little app makes it so easy. Just select the desired Linux distribution form the menu, and "burn" it to the flash drive. That's all. It downloads it for you and sets up the flash drive.
UKUU
Ubuntu Kernel Update Utility let's you update your Ubuntu kernel to the latest releases or downgrade to any other release. Super useful, but somewhat risky to update the kernel yourself. Only use it if you know what you are doing. However, in Ubuntu you can easily restore to a previous kernel if your machine is not working well with the updated kernel.
VeraCrypt
Great disk encryption app. I encrypted several usb flash drives with it.
Indicators
A few indicators that I use daily: Psensor that checks the temperature of my laptop's CPU and GPU (and for individual cores); System Load Indicator to see in real time my CPU and RAM load (you can choose more options); Sound Switcher to quickly switch between multiple audio input and output devices; and KDE Connect that keeps my phone and my laptop connected (I get my phones' messages on my laptop and all notifications, plus I can copy paste from one device to another and send files).
In case you wonder I use Paper icons and the Ark-Dark theme.
There are a few free but closed source software that I also use because I didn't find better FOSS alternatives: Master PDF Editor (great tool for editing pdfs); Private Internet Access as VPN (the app is free but you have to pay for the service); Slack (for managing TROM teams – it is a chat app); TeamViewer (remote desktop access/control); XnConvert (to bulk editing images). I also use a few websites as apps since in Ubuntu you can save websites as apps via Chromium: TROM News (my only source of news), MusikWave (my music website – built by me); Radio Garden (awesome radio website); Jamedo Music (free music that you can also use for your projects). I use lots more websites but only these I use as "apps".
Let me know what you use and maybe suggest something FOSS for the above non-FOSS ones. 😉